Cristina, Luca, and Asinara Camp: the story of a marine biologist who has combined diving and science and married the visionary project of her life partner. Asinara Camp is the place where a guy can become conscious, safe, and have a profound knowledge of the marine environment that surrounds him.
Estimated reading time 5 minutes.
Cristina
The girl who is coming to my office wants to tell me a story, her story and that of an extraordinary underwater project. Her name is Cristina Bonino and she is a woman as well as a mother.
Her story began several years ago, in 2009, when she enrolled in the faculty of biology at the University of Padua.
She comes from a sea town, more precisely from Chiavari, in the Gulf of Tigullio, a stone's throw from the Portofino Promontory and from its Marine Protected Area which for years has been the Mecca of diving in Italy.
However, when she decided to become a scuba diver she was living in Padua, far from the coast. The irony of fate has it that she, born right next to the sea, took her first course and her first dive in a lake, that of Godego, in Castelfranco Veneto.
The following year she continued her studies in Ferrara. At least the sea is there and, in the murky waters of Este's coast of the Adriatic, she also continued her underwater journey with the second level certification. Diving and Science got on the same level becoming an everyday life.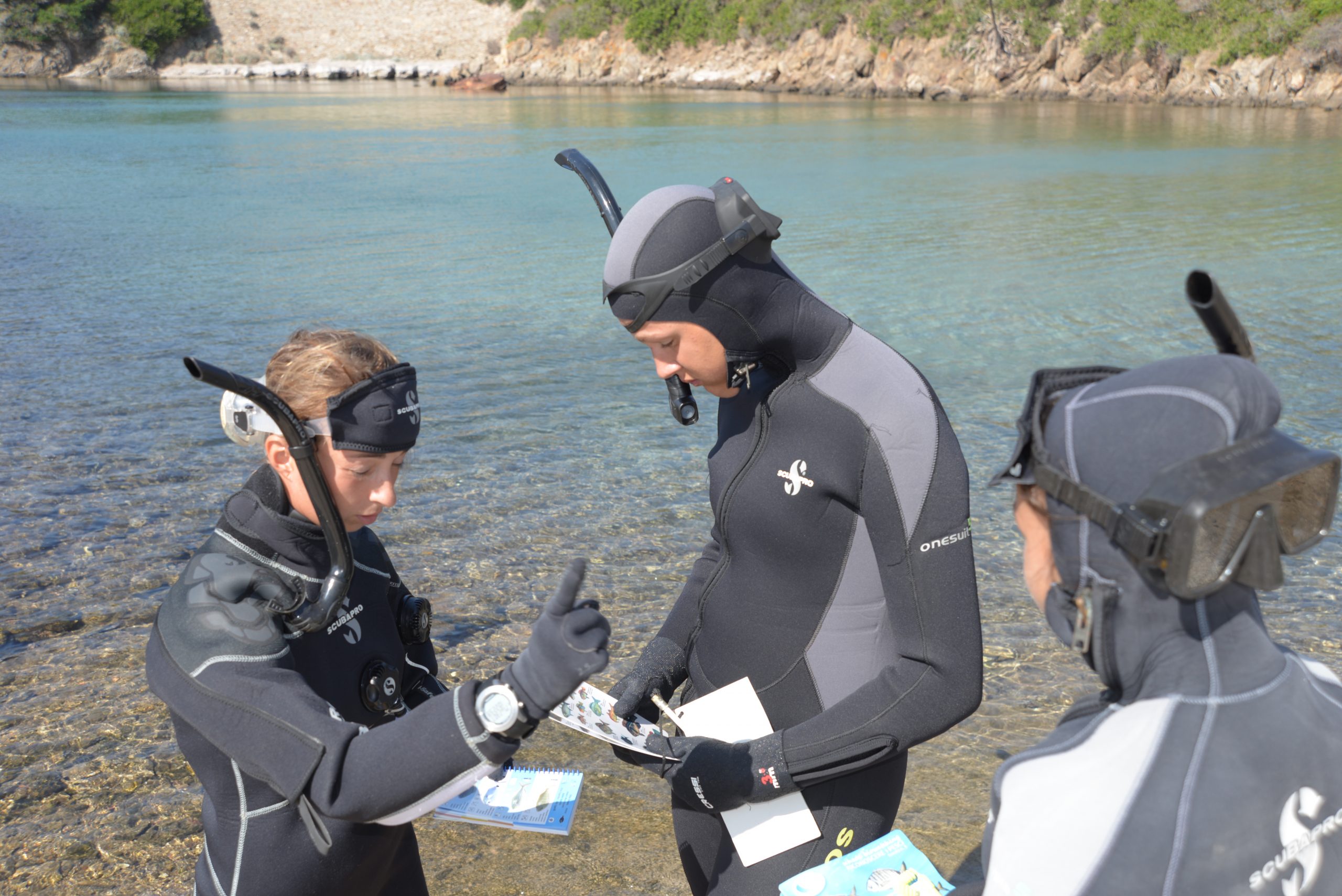 The third year of university required a decision regarding the internship. She decided to dedicate it to underwater scientific research, she was curious about everything that is attached to the rocks: corals, gorgonians, sponges. The gorgonians were also going to be the subject of her research during the internship.
In 2013, she decided to contact many Marine Protected Areas, and one of them, located in Asinara, in the northern part of Sardinia, replied.
Asinara is a different, wild and mysterious island. At her arrival, she got pervaded by the silence. At her disembarkation, from the ferry that departed from Porto Torres, to welcome her there were a donkey and a crystal clear sea.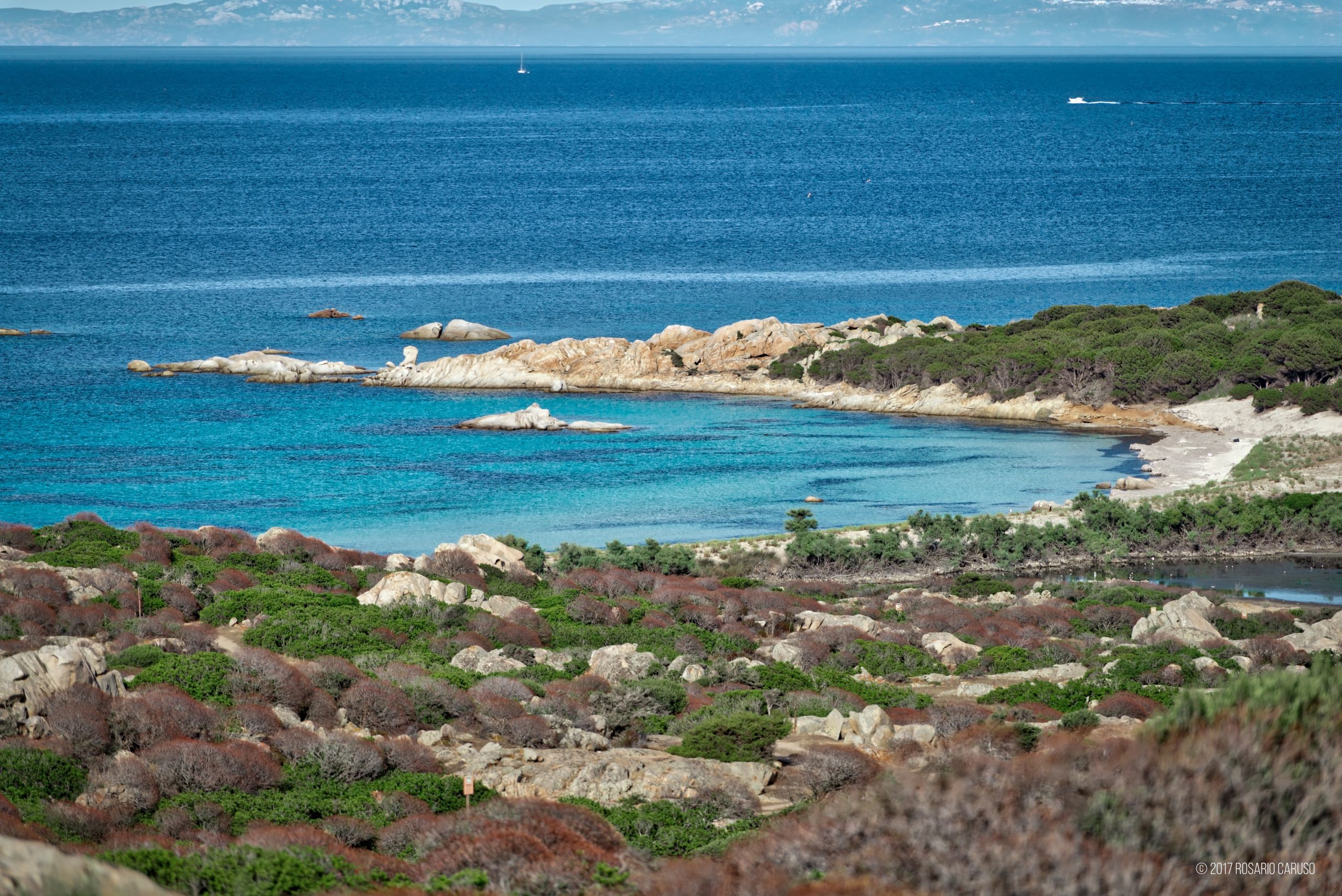 Asinara
But let us take a step back. Until 1998, Asinara was a prison, with 12 branches, including a maximum-security one. A "maxi-prison", in which the worst offenders of our contemporary history were detained. In 1998 the prison was abandoned and the island became a National Park, in 2002 the authorities of the field decided to complete the work regarding the defense of the natural heritage by establishing the Asinara Marine Protected Area.
Prison facilities and those related to them were abandoned. The inhabitants, the prisoners, the guards, and the orderlies left. They left a territory that they had contributed to making livable for human beings. The animals, the original inhabitants, donkeys, horses, mouflons, goats, wild boars, and hares were the only ones left. And the vegetation began to grow uncultivated again, without the labor of the inmates.
Slowly the structures are converted: a hostel, a refreshment point, and a bar. Just enough to attract niche tourism, made of people who love nature, still inaccessible paths and the sea, blue and crystal clear.
Today the restaurants have become two and the bars three. The accommodation facilities can host up to about 70 guests. Recently, another facility was opened and it can offer a few more beds and catering based on the concept of fish tourism. Today, the main ones are all in the Borgo di Cala d'Oliva, in the north of the island. Where the church is located today, once there were schools and there were the houses of those who worked for the prison. Today, there is only one inhabitant who used to work as a prison guard and today works as the sculptor of wood and rock of the island.
Luca
Going back to 2013. Cristina disembarked from the ferry with her suitcases and her diving equipment. She had everything she needed with her to stay there for three months. She got to the place in the structure where she was going to stay that would host her and her journey began between books and diving.
In the same period, there are other people doing diving. I'm Luca, a handful of 10 kids.
But who are these 10 kids? What do they do there? They carry out gymnastic and underwater activities, do exercises in the sea, with and without diving equipment. In short, they carry out a playful activity. They run around the whole island and visit all the most beautiful beaches. They were attending a Camp, a training period. Luca was their instructor and they were boys and girls who mostly came from Porto Torres and the neighboring municipalities. They are sea guys, incredibly curious, thirsty for knowledge regarding the sea and its inhabitants.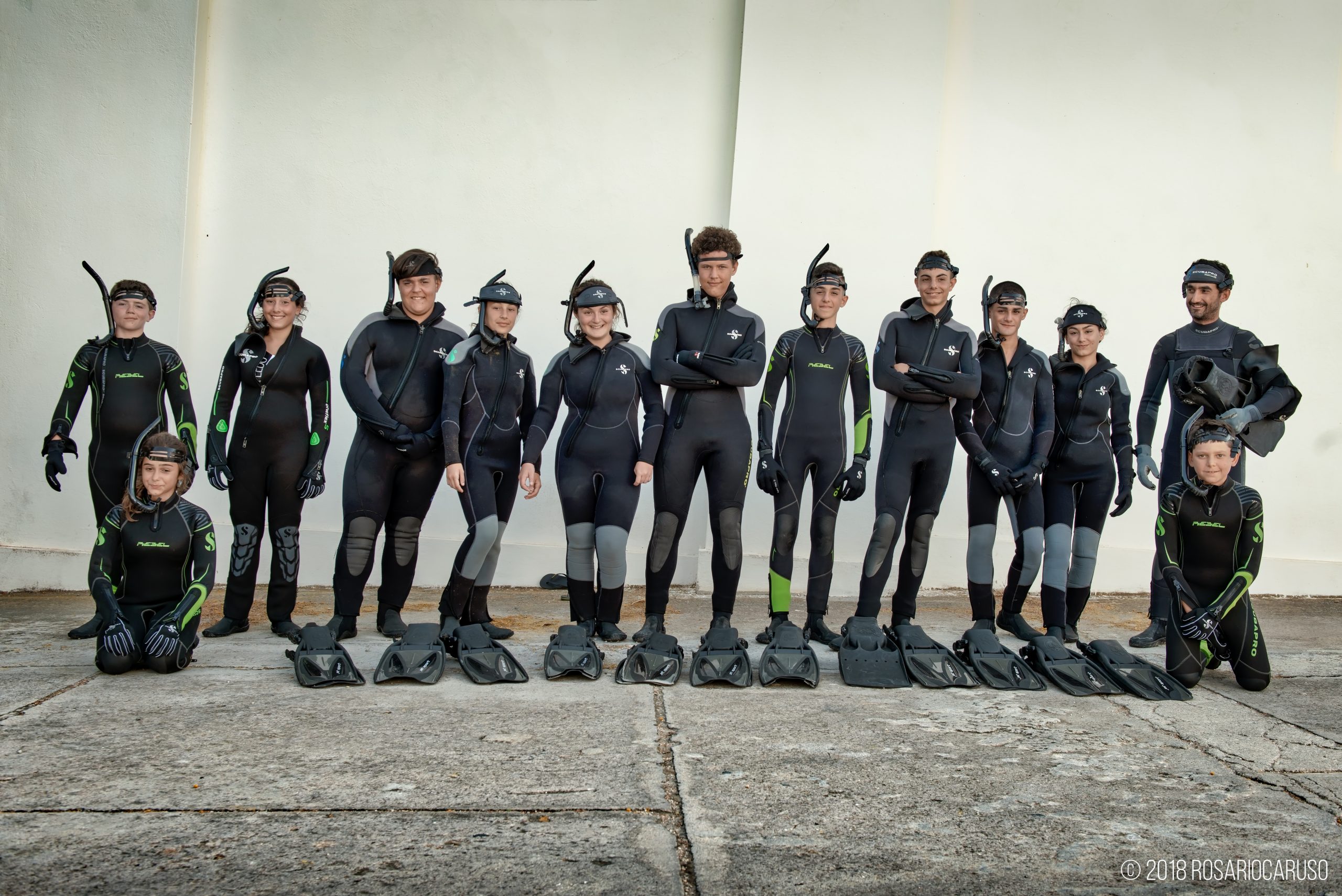 However, Cristina immediately realized that this activity was lacking the scientific part, that of marine biology and environmental education. No one explained to these young people what they were going to see underwater.
That person could easily be her. On the other hand, she was staying on the island, she was doing an internship for her bachelor thesis and, above all, she felt motivated and prepared to do so.
Thus, she began asking Luca about the project and approached the young instructor.
Cristina, Luca and Asinara
At that point in time, of course, Cristina's dreams were different. She wanted to finish her studies, escape to the Maldives, then to Mauritius, and maybe go to Australia where she could be a researcher and win the Nobel Prize.
But fate is known, sometimes it is mocking. Luca and Cristina fall in love with her and she also begins her long affection for Asinara. Soon, she became passionate about teaching, she discovered that she loved the world of youngsters. She changed perspective that which was no longer made of research, laboratories, and universities. But it became teaching, education, and the transfer of marine culture. She was fascinated by the way these kids looked up to her, by how she perceives in them the possibility of emulating her. As if she were a point of reference for their future dreams.
Cristina continued her studies, with a master's degree in marine biology, obtained in Pisa. In between, there were a couple of summers at Asinara, with Luca and Asinara Camp. She did a second internship, which lasted six months, made up of underwater sampling. At that time she also became an instructor and underwater scientific operator. It was 2015.
Teaching her was a new world for her, she needed a few first summer experiences to refine her communication techniques and to understand what these kids expected from her, to understand them from an underwater point of view.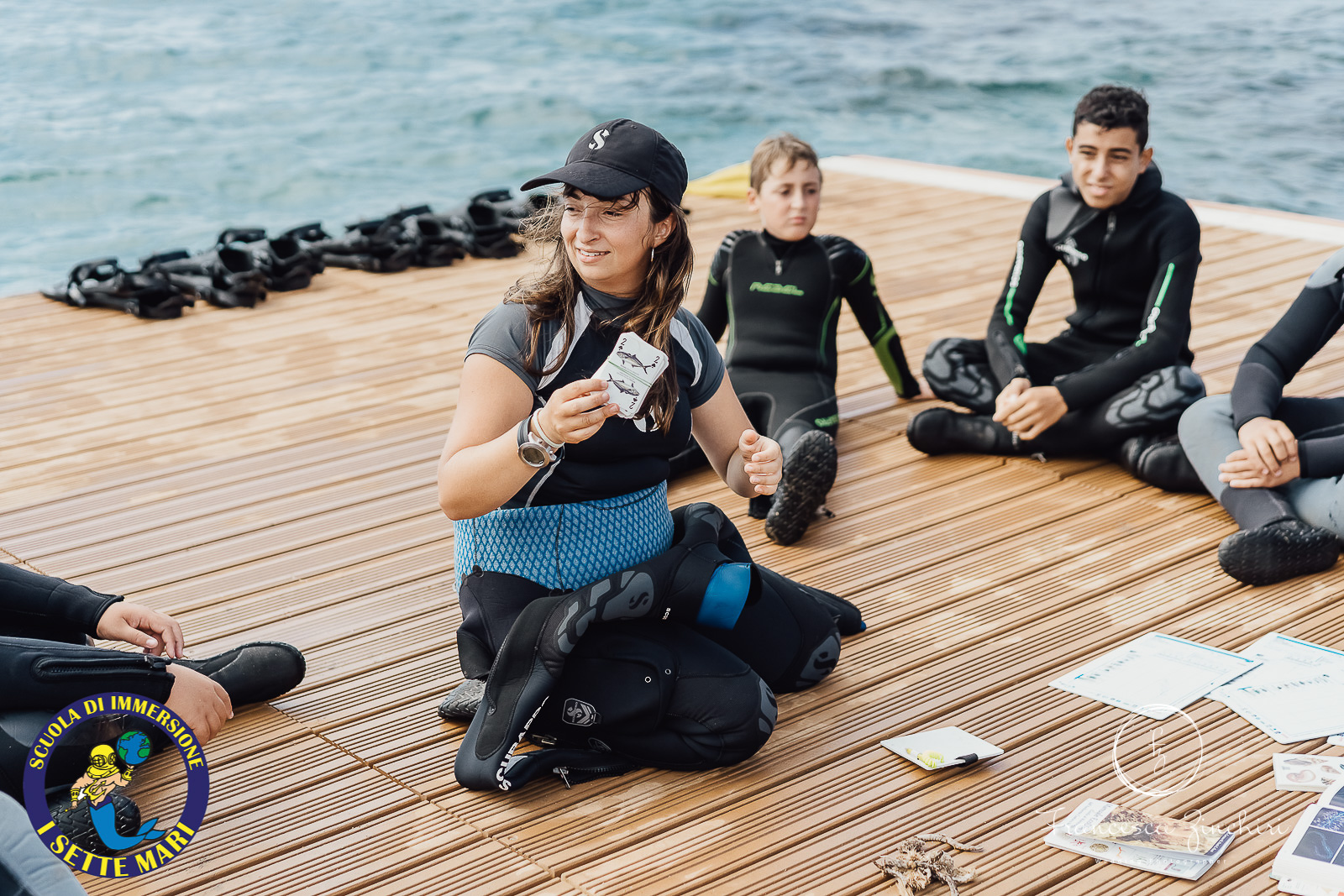 She started with basic, traditional lessons, with PowerPoint presentations and progressed to the interactive world. She began to use microscopes and equipment from the Marine Protected Area. And then she created specific programs on the beach and in the sea thanks to specialized underwater science courses.
PADI and especially ESA are the educational partners who support her in the project because she is Sardinian and she was slowly becoming part of the community. Also building programs and certifications related to marine biology.
The Asinara Camp
But what is this camp? What is the Asinara Camp?
Before meeting Cristina and Luca for the first time, I had a look online. After having done some research on their Facebook and Instagram page and their YouTube channel of the Seven Seas (the diving school name), I found amazing videos, which filmed some kids doing intense training. As if they were groups of small raiders, equipped as if they were adults, the good adults. They looked like they were the best, with the mask on the nape and with fins, one in each hand. I thought it was a training course for little recruits, but I saw them happy and smiling.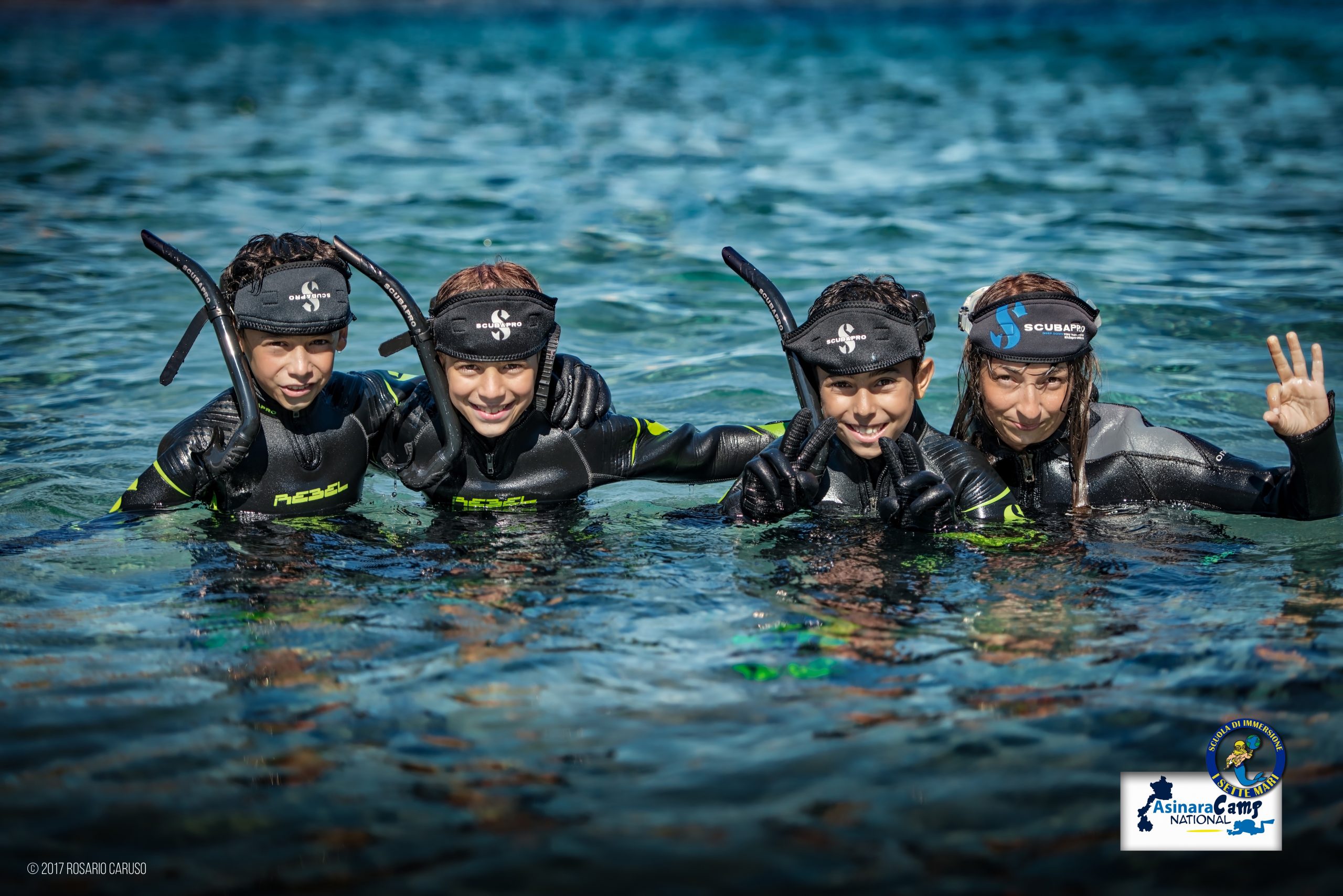 Asinara Camp is certainly not a substitute for the Summer Boys by the sea. Here you don't make sandcastles, you don't play, you don't sunbathe on the beach. Here safe and aware divers are formed, with the right amount of fun.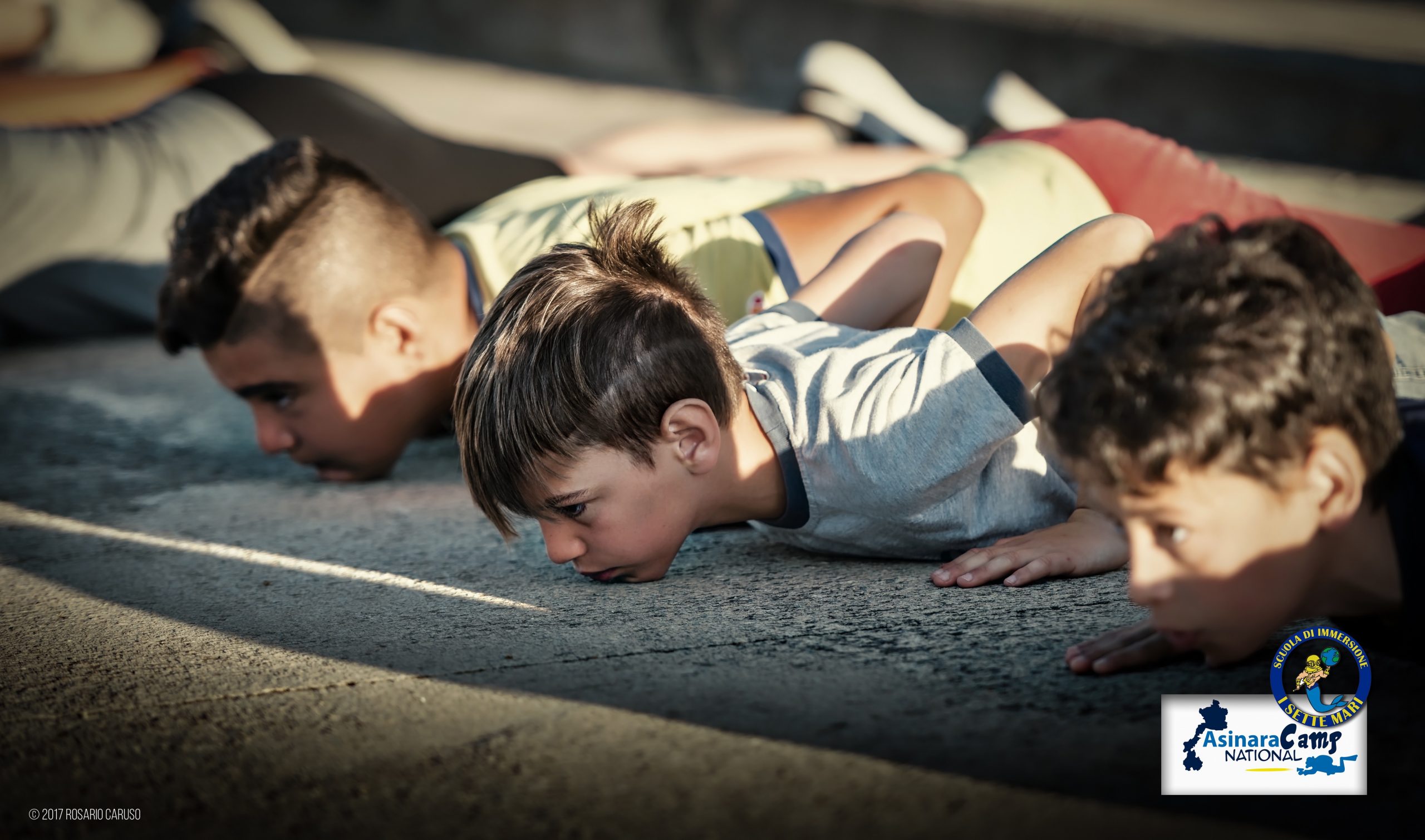 The selective interviews
To participate in the camp, you need to carry out a selective process, made up of interviews with the children and their parents. To be chosen you need to be motivated. You have to want to spend 15 days in a fantastic place, in close contact with nature, learning new things. By engaging and sharing everything. Exactly how you behave in a team. Exactly how they will have to behave as they will grow up. And remember that the mobile phone says at home!
The groups
At Asinara Camp the children are divided into groups, each by age and by skills. And, depending on the group they belong to, they will follow educational programs. Which will lead them to obtain diving certifications that suit their group and special ones, dedicated to biological learning. They will go back home satisfied, proud of having managed to pass the first real important test of life. That of staying away from home and, at the same time, busting their asses and managing themselves. They will also go home with patents in their pockets. Today, it can be a way of feeling cooler with friends. But which, in the future, could be training credits for the final exams, for schoolwork alternation, or the score for the armed forces.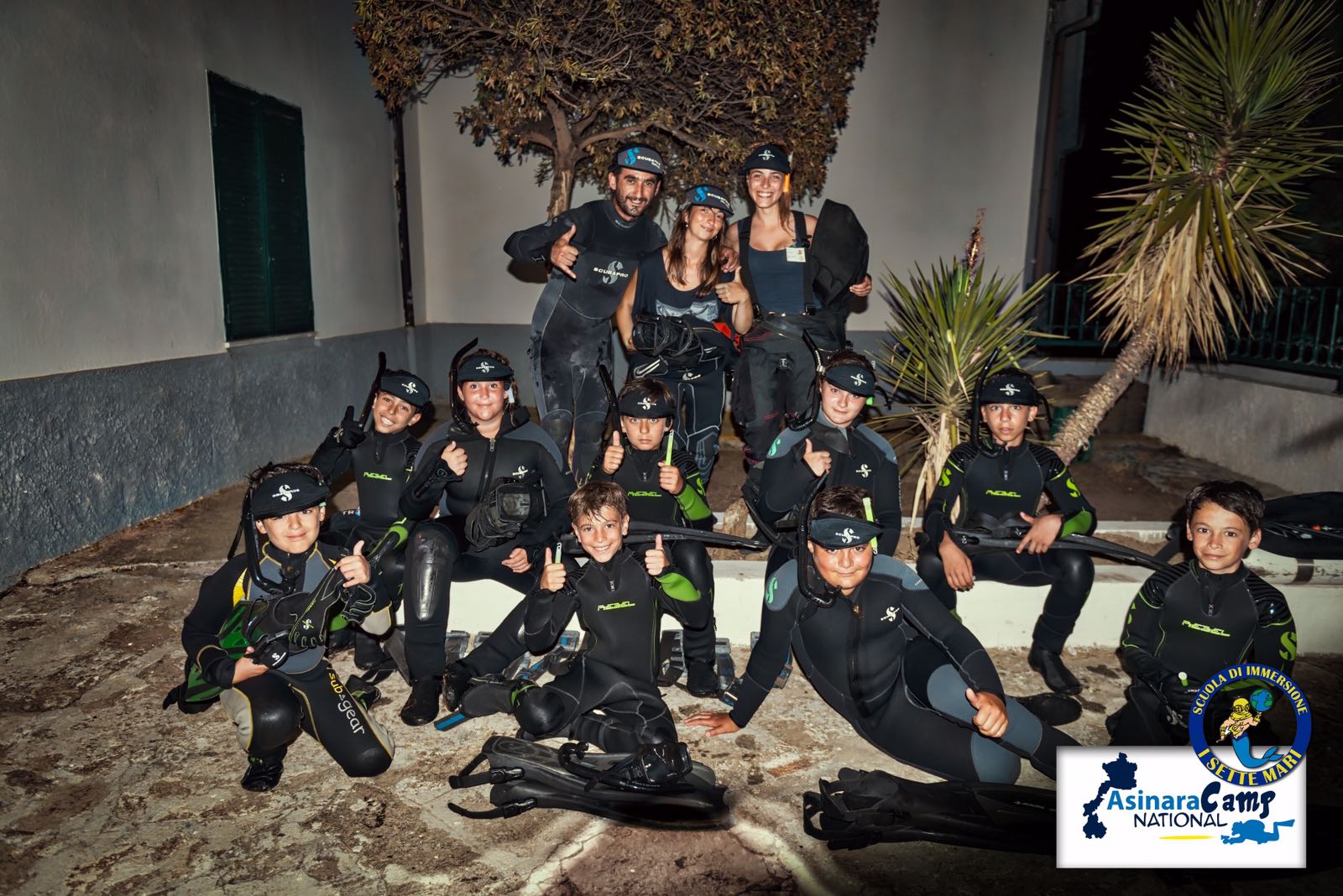 The staff
During the Camp Luca and Cristina, who create family harmony as a couple, are not the only ones supervising the kids. Some external speakers spend days with the kids. They are a team of professionals, each one specialized in a specific diving area. Like freediving, sports medicine, psychology, and underwater photography. During their interventions, they will experience the island alongside Asinara Camp.
The history
Asinara Camp has existed for 10 years now, since 2011, certainly before the marine biologist apprentice, originally from Chiavari, met Luca on a beach on the island. The project that has become the main pillar today is by that visionary Luca, who, many years ago, in 2004 in the Gulf of Asinara created a diving center that wants to be referred to as a diving school.
At first, his boys were Sardinians, almost all from the villages overlooking the Gulf of Asinara. Kids who have the sea inside, kids who have grown up and who have become great divers. Men and women who, if you met them, would still remind you of those fifteen days away from home, with those real emotions.
Today Asinara Camp is a little more global. The kids who go there come from Milan and Rome. Lately from Bologna and Veneto. Social networks have shortened distances and improved communications. EUDI also made its contribution.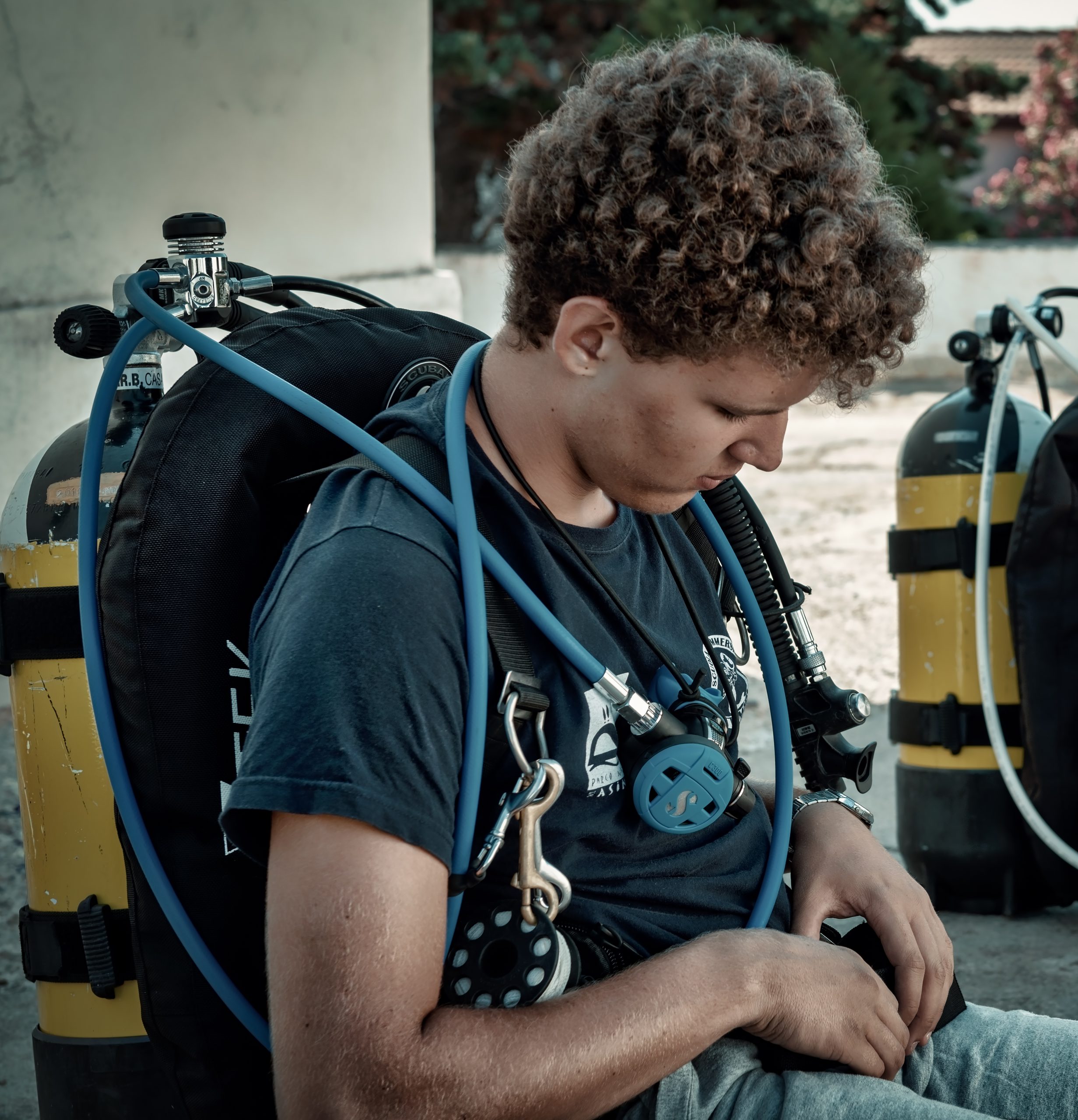 The kids want to go back the following year, to complete the path, to become better and more prepared. Someone, who started from the Asinara Camp path, once they turned 18, they started becoming Divemasters. But above all the kids, listen carefully, during the winter they save the money on tips and gifts to buy the diving equipment that they lack.
Until 2019 Asinara Camp, in partnership with the Park Authority, had a structure available to the project that was self-managed by the staff and participants. Everyone had a job to do, whether it was cleaning or setting the table. Within the team, there were neither bosses nor servants.
Since 2020, the organization has been relying on the hostel in Cala d'Oliva given the pandemic situation and the Covid regulations.
Cristina and Luca today
And Cristina? Well, she continues to spend her summer months at Asinara Camp, as a marine biologist, with her interactive lessons, with her desire to amaze and interest kids. During winter, she tried to export scuba diving and marine biology to Ligurian school desks, delighting as a divulger in diving centers. But, unfortunately, she did not succeed. And then, let's not forget, that no one is a prophet at home.
Then, in the meantime, in 2019 she became the mother of Leonida, a blond child who was already born in the water. In addition to being a mother, Cristina continues to seek training courses in Liguria, where she still resides during winter. In 2021, she graduated as a marine tourist guide of the Region. At the moment, she is attending marketing courses aimed at the use of digital platforms for the diving school of which she is now responsible together with Luca.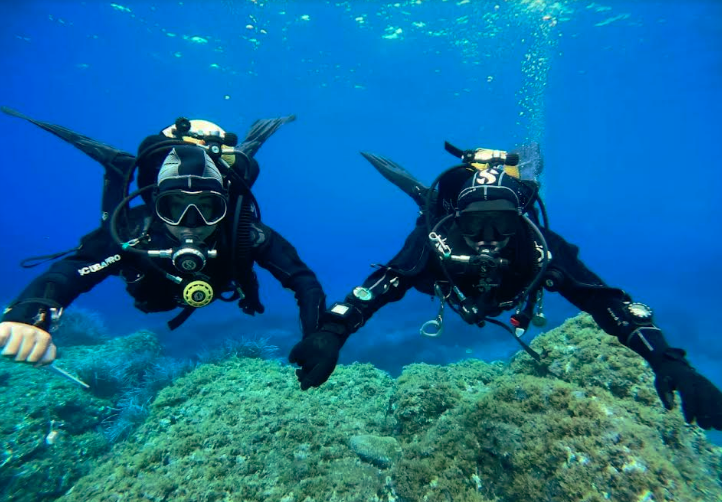 And during summer? She goes back to working with Luca in Asinara in the driving school The Seven Seas with the operational headquarters in Porto Torres. It is open throughout the entire year with swimming pool courses or courses in the sea, but above all, it is active as a refilling center and equipment assistance laboratory.
Asinara Camp 2022
Today they plan the new edition of Asinara Camp 2022, promote the event, and organize the selections.
If you have sons and daughters, aged eight to sixteen if you love the sea and your kids love it too, if you want them to have a rich and exciting experience and if you want them to learn how to dive safely together with recognizing and respecting the environment which they will find themselves in, try to think about this opportunity for them. And if you are looking for more information, write to: isettemariscuolasub@gmail.com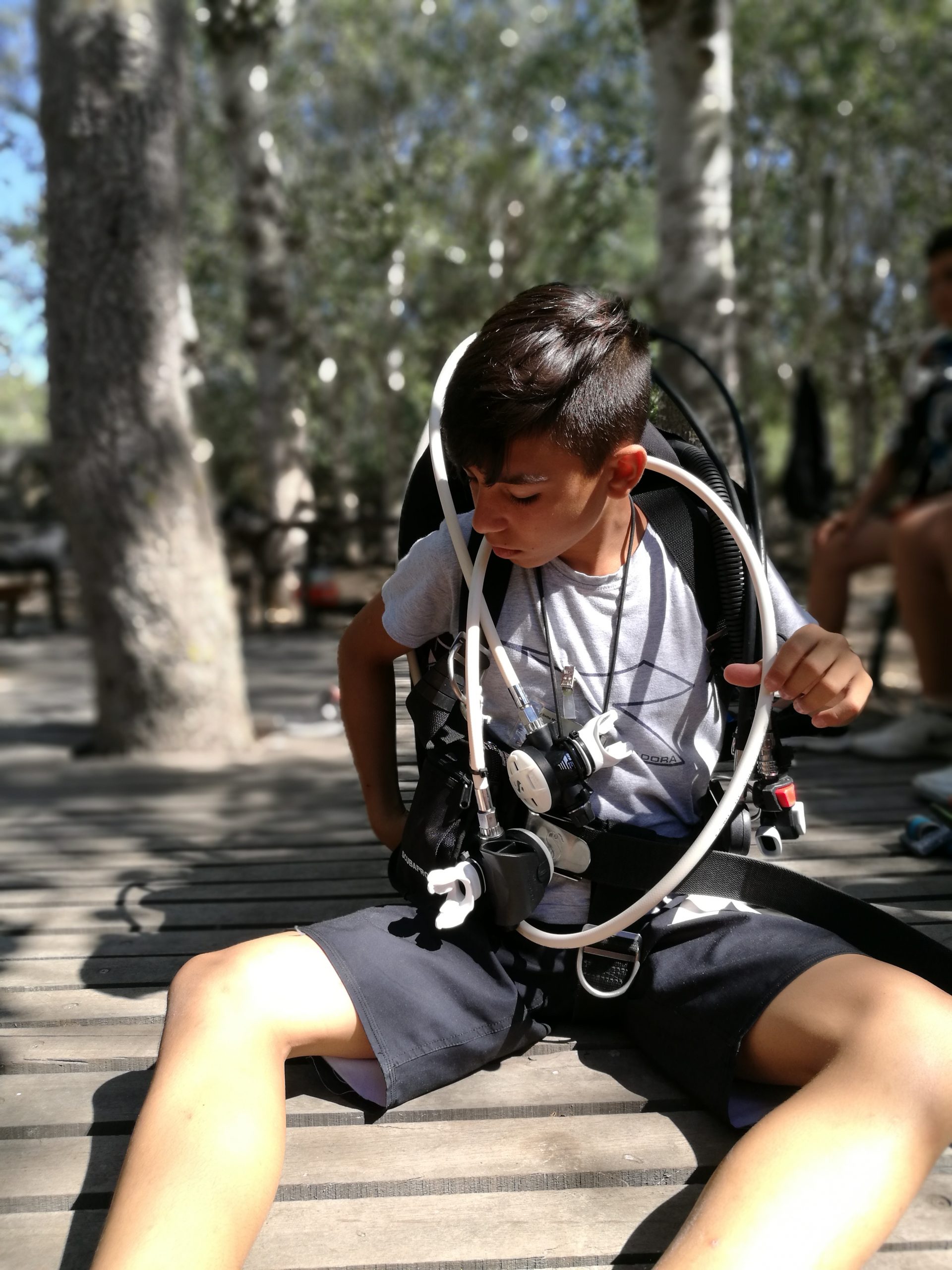 Oh, I was about to forget, if you are patented and you find yourself close to that location, give them a call. Because, although they are a school, they are accredited for diving excursions in the Asinara Marine Protected Area and are diving operators on the island.
And, judging by the good impression they made, you will have a lot of fun!
See also